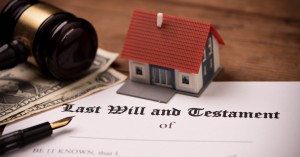 You have heard the saying "you can't have your cake and eat it too". Well, that's exactly what was attempted recently in the probate proceeding of In the Estate of Dempsey Johnson.
In this case, a daughter of Dempsey Johnson received a bequest under her father's Will - a mutual fund account valued at $143,222.15. Two months later, she sued the estate's executor (her sister) seeking to set aside their father's Will alleging he did not have testamentary capacity when he signed the Will or that her sister exerted undue influence over their father when he signed the Will. The contesting sister claimed that what she had received under the Will was worth less than the inheritance she would have received if the Will was nullified (i.e. one-third of $1.4 million). The executor asserted the acceptance-of-benefits defense arguing that her contesting sister did not have standing to sue since she had accepted the benefits of the Will.
It has long been the rule in Texas that a person cannot accept the benefits under a Will while contesting its validity. In this case, the trial court dismissed the sister's Will contest stating that once she accepted the bequest left to her in her father's Will she no longer had standing to contest the Will. The Dallas Court of Appeals reversed the trial court's holding relying upon a prior court of appeals decision (Holcomb v. Holcomb, 803 S.W.2d 411 (Tex. App. – Dallas 1991, writ denied)) suggesting that a contestant may challenge the Will if the benefits she accepted are worth less than those to which she is entitled under the challenged will or intestate laws.
The Texas Supreme Court overruled the Dallas Court of Appeals and affirmed the trial court's dismissal of the sister's Will contest under the acceptance-of-benefits doctrine. In doing so, the Texas Supreme Court rejected the Holcomb decision.
The lesson learned from this case is that if you intend to contest the validity of a Will, do not accept any benefits left to you in the Will. You cannot grasp the benefits under the will with one hand while attempting to nullify it with the other. Should you have any concerns about the validity of a Will, give us a call before accepting any benefits under the Will.
---