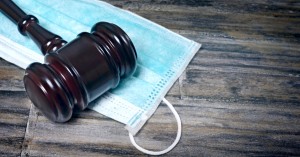 To say last year was the year of abnormal is quite an understatement. This year, thankfully, we are attempting to move toward a new normal. One of the unfortunate consequences of 2020 is the backlog of court cases. In 2019, Texas courts tried approximately 9,000 cases to verdict. In 2020, Texas courts tried 239. With a stalled court system, the justice system cannot effectively operate.
In its 36th Emergency Order, the Texas Supreme Court lifted its statewide ban on in person court proceedings and jury trials. As courts take steps to try cases again, it is up to local authorities to decide how safety concerns should be best handled. Most courts are providing more room for jury selection to allow social distancing, providing sanitized areas, masks, etc. In Smith County, the following precautions are being implemented, according to the District Clerk, to provide a safe and healthy environment for those reporting for jury duty:
Limited capacity of 46 people in the Central Jury Room to allow for social distancing
Prescreening potential jurors by taking their temperature
Providing masks, face shields and gloves
Having hand sanitizer in multiple locations
Cleaning often
Food precautions and instructions
Smith County is also providing a Jury Service COVID-19 Pre-Screening Questionnaire to be completed by each potential juror before reporting for jury service to screen for any person that has been recently exposed or is possibly still contagious from a recent COVID-19 illness.
All of these precautions are being taken in a concerted effort to provide the important right to a jury trial which is critical to our justice system. So far, since jury service has been permitted to proceed, there have been more than 10 criminal jury trials in Smith County and no reports of any illnesses resulting from any trial participants.
---